IOC Assessment
The classification of olive oil is prescribed by International Olive Council (IOC/COI).
Takao Nouen no Olive Hatake was recognized a way of international standardsof extra virgin olive oil by International Olive Council every year 2010.
Extra virgin olive oil is not a scientific means to extract with solvent, it is obtained by mechanical physical mean after washing, crushing, stirring, extraction, centrifugation, squeezing and filtration of the olive fruit.
And the highest peak (highest quality) "extra virgin olive oil" certification can be obtained among them, only those satisfying the criteria by "sen sory test (panel test)" and "physicochemical test.
Takao farm think that "Making Olive Oil" is important fallowed by International Olive Council (IOC/COI).
I sent olive oil to an Italian official laboratory every year, and it is certified to be an international standard extra virgin olive oil.
+Panel test(sensory test) by"O.N.A.O.O"(Italy)
+Chemical test(physicochemical) by"chemiservice"(Italy)
TEST NAME
LIMIT VALUE
FREE FATTY ACIDS
Under 0.8% Oleic Acid
PEROXIDE VALUE
Under meq 20/kg oil
SPECTROPHOTOMETRIC INVESTIGATION
IN THE ULTRAVIOLET
K232
Under 2.50
K268
Under 0.22
Delta K
Under 0.01
MOISTURE AND VOLATILE MATTER
Under 0.2%
ALKYL ESTERS
(Fatty Acids Methyl and Ethyl Esters)
Total ethyl esters
Under 35mg/kg
FATTY ACIDS METHYL ESTERS
C14:0-Myristic acid
Under 0.03%
C16:0-Palmitic aci
Under 7.50-20.00%
C16:1-Palmitoleic acid
Under 0.3~3.5%
C17:0-Heptadecanoic acid
Under 0.30%
C17:1-Heptadecanoic acid
Under 0.30%
C18:0-Steanic acid
0.50-5.00%
C18:1-Oleic acid
5.00-83.00%
C18:2-Linoleic acid
2.50-21.00%
C20:0-Arachidic acid
Under 0.60%
C18:3-Lionolenic acid
Under 1.00%
C20:1-Eicosenoic acid
Under 0.40%
C20:0-Behenic acid
Under 0.20%
C24:0-Lignoceric acid
Under 0.20%
TRANS FATTY ACIDS CONTENT
C18-1-(Elaidinic)
Under 0.05%
C18:2+C18:3
Under 0.05%
DIFFERENCE
Under 0.2%
CHOLESTEROL
Under 0.5%
BRASSICASTEROL
Under 0.1%
CANPESTEROL
Under 4%
DELTA-7-STIGMASTADIENOL
Under 0.5%
TOTAL BETASITOSTEROL
Over 93%
TOTAL STEROLS CONTENT
Over 1000mg/kg
ERYTHRODIOL AND UVAOL
Under 4.5%
WAXES(C42+C44+C46)
Under 150mg/kg
STIGMASTADIENS
Under 0.05mg/kg
Record of international standard's assessment.
EVOO   2019 100% Mission Extra Virgin Olive Oil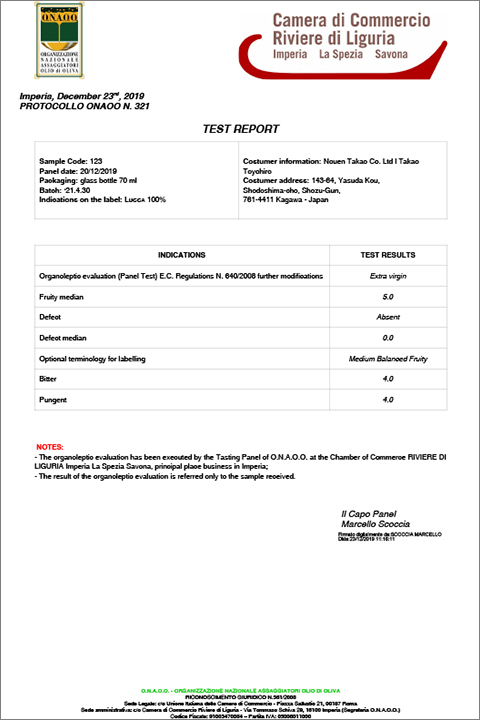 EVOO   2019 100% Lucca Extra Virgin Olive Oil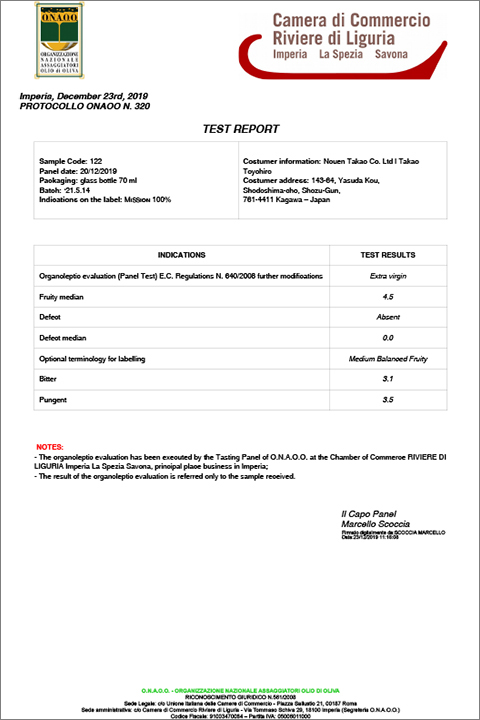 EVOO 2018 100% Frantoio Extra Virgin Olive Oil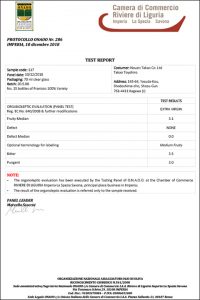 EVOO 2018 100% Lucca Extra Virgin Olive Oil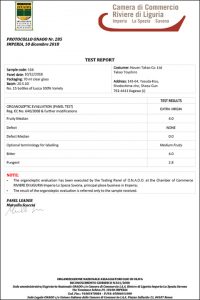 EVOO 2017 100% Mission Extra Virgin Olive Oil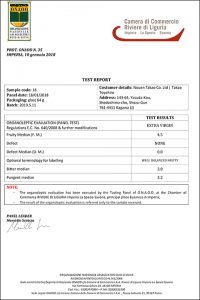 EVOO 2017 100% Lucca Extra Virgin Olive Oil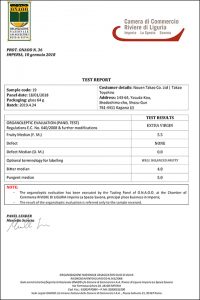 EVOO 2017 100% Mission & Lucca Extra Virgin Olive Oil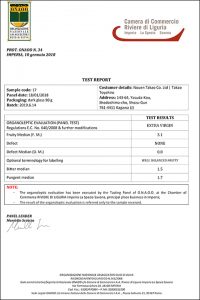 EVOO 2016 100% Mission Extra Virgin Olive Oil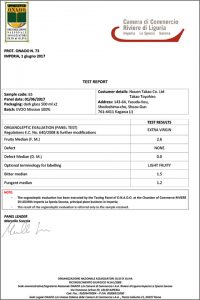 EVOO 2016 100% Lucca Extra Virgin Olive Oil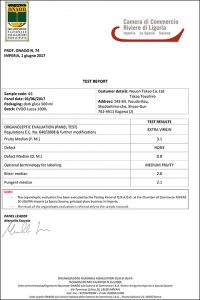 EVOO 2015 100% Mission Extra Virgin Olive Oil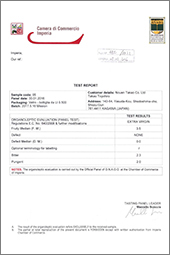 EVOO 2015 100% Lucca Extra Virgin Olive Oil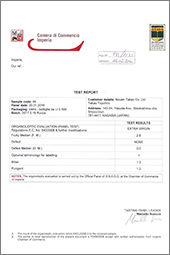 EVOO 2014 100% Mission Extra Virgin Olive Oil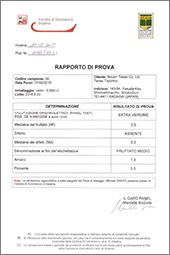 EVOO 2014 100% Lucca Extra Virgin Olive Oil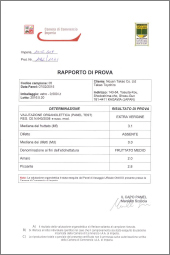 EVOO 2013 100% Mission Extra Virgin Olive Oil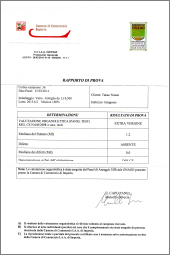 EVOO 2012 100% Lucca Extra Virgin Olive Oil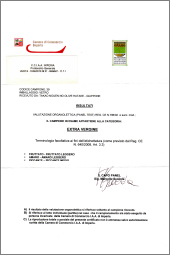 EVOO 2011 100% Lucca Extra Virgin Olive Oil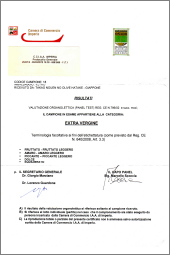 EVOO 2010 100% Lucca Extra Virgin Olive Oil